Personalisation? Publicity? Plastibac!
When purchasing plastic, reusable load carriers you can opt to have the containers personalised. They are usually printed with the company name, but there are diverse options:
Numerical (telephone number, serial number, reference number, etc.)
Logo
Slogan
Commercial message
…
The print options also vary depending on the type of product you choose and the space available to print on. However, you can assume that practically any item with an even surface will give an attractive result for personalising your container.
Professional promotional material

Personalising your product enables you to convey information and makes your equipment recognisable. If your containers, pallets, transport components, etc. are part of a logistical process or are regularly on the move, your professional printed message will be visible to countless other parties.
If you opt to have your name or logo printed this offers certainty that your equipment will not get mixed up with that of anyone else, and increases brand awareness. Your company name or logo will be visible everywhere. This puts existing and new customers directly in contact with your company. Printing identification or serial numbers ensures you can easily monitor the location of a particular container.
Are the crates and pallets for internal use? Why not specify the contents of a series of containers? This will result in a motivational and orderly workflow for all your employees. Which, in turn, will produce time savings.
Print according to your product choice
Plastibac offers diverse printing options, depending on your demands or needs. Below you will find a detailed list.
Hot stamping
Hot stamping uses thermal pressure in which a series of letters or numbers is transferred on to plastic using a press and hot stamping foil. Two font sizes and diverse colours are available using the hot stamping printing method. This type of personalisation is possible for small quantities, as of 25 units.


Choose the hot stamping printing method if you:
Want to print a small quantity
Only want letters or numbers printed
Want a fast delivery time
Hot stamping with a cliché
This type of hot stamping printing method uses a specialist cliché, produced on a one-off basis. Otherwise the printing method is the same as the regular hot stamping option.
Choose the hot stamping printing method with a cliché if you:
Screen printing
With personalisation using screen printing the text or logo is printed on the plastic using a mesh screen. The screen printing option makes it possible to use multiple colours (up to ten). As a rule the screen printing technique can be applied to any flat section of a product.


Opt for screen printing if you:
Have a special logo
Want to convey a powerful message
IML (In Mould Label – embossing)
In the IML printing method the desired personalisation is integrated in the mould during the production process of the containers or pallets. You could opt to have colour added to the embossed print afterwards using hot stamping.
Opt for IML if you:
Want your personalisation to be 100% indelible
Have a large series of products
Place recurring orders
Important:
The print depends on a number of factors. The right technique, the size available, the number of printed sides, etc.
Our team of specialists is happy to advise you!
There are many possibilities to make a series of containers visibly yours.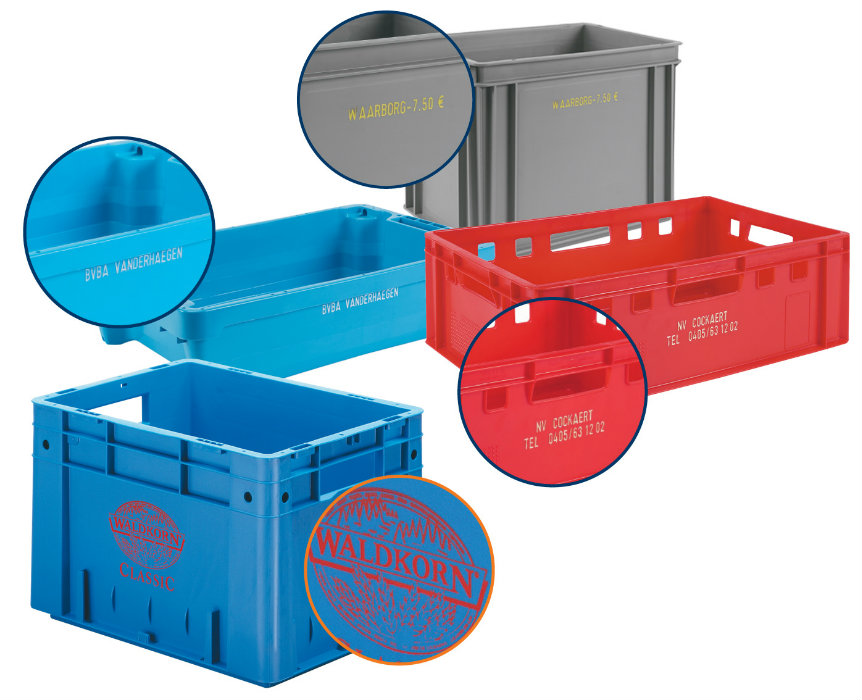 Name imprint - per side (Hot Stamp)
CONTACT US FOR MORE INFORMATION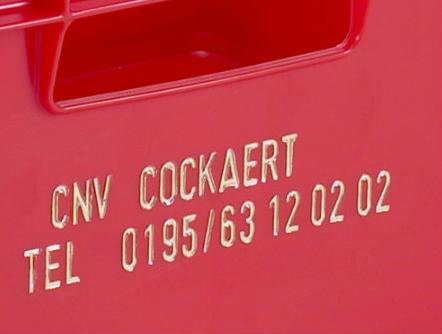 Logo imprint with cliché - per side
CONTACT US FOR MORE INFORMATION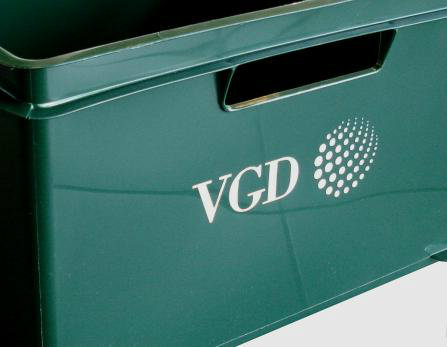 Serial numbering - per side (hot stamp)
CONTACT US FOR MORE INFORMATION