Plastic racks: all-round standard size or customised?
Anyone looking for a professional rack suitable for hygienic applications should definitely consider durable plastic!
Plastibac's plastic, stackable racks are made from impact-resistant, durable plastic with a load-bearing capacity of up to 200 kg per metre of shelving. As the racks are made from plastic, they are rustproof and resistant to salts and acids from foods. The racks are extremely hygienic and comply with the strict HACCP requirements. They also perform well in terms of temperature resistance. They can be used at between -40°C and +80°C. The combination of these factors makes our plastic racks suitable for daily use in numerous sectors ranging from the food sector to company changing rooms.
Food companies

Hospitality industry

Catering

Care institutions (hospitals, rest homes, etc.)

Laboratories

Laundry & textile storage
Sports centres (gyms, sports halls, etc.)

Rehabilitation centres

Company changing rooms

leisure centres

Swimming pools
All-round standard dimensions can be delivered from stock:
The standard stackable racks are available in:

Length: 1500 of 2000 mm
Depth: 400 of 500 mm
Levels: 4 (500 mm space)
Standing height: 1820 mm
Or customised?
Are you looking for a specific dimension or model? We are pleased to provide you with customisation. Send us your details and desired dimensions and we will provide you with a customised quotation.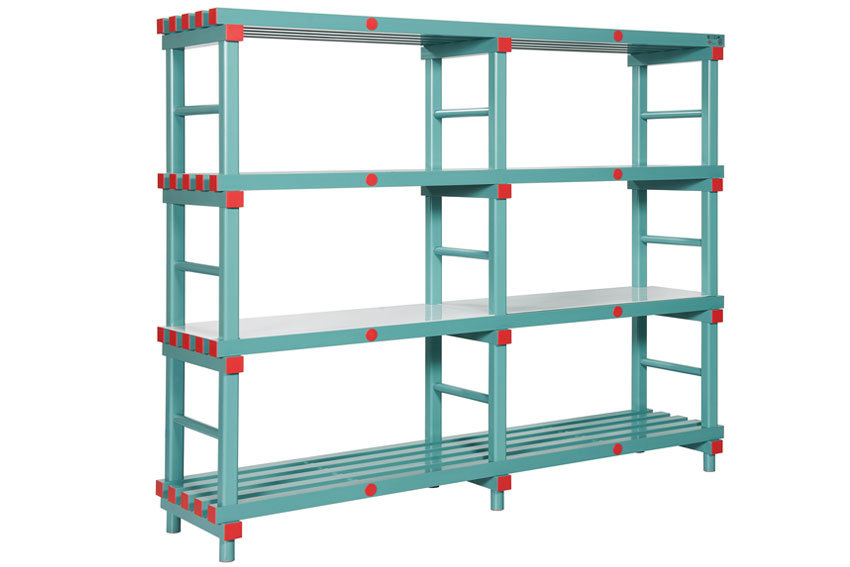 Complete the racks with extra options
In the standard plastic rack models the shelves are made from plastic slats. Optionally you can choose individual, full inlay sheets. These are ideal for small packages or bottles. What's more, full shelves prevent any leakage seeping on to underlying shelves.

Is your working method dynamic? Literally? Opt for castors under the racks. They allow you to safely and quickly move your rack to where it is needed, or from where it isn't.
Complete plastic range?
Besides the plastic racks there are also benches in diverse lengths, stackable racks for swimming and sports items, and changing room racks, etc. offering the same high quality.